2017, 2021
Margaret G. Innes
Postdoctoral Fellow
Syracuse University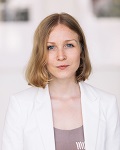 Signs of Labor in the American Photographic Press, 1926-1951
This dissertation examines distribution as a central concern of photographic production between 1926 and 1951. During this period, the American left-wing press served as a key site of reception for European avant-garde practices that retheorized the public function of art and photography's role in reaching a mass audience. Three case studies chart the evolving visual tactics of leftist pictorials and their dialogical relationship with photographers' work: the reception of German photomontage and worker photography in the American pictorial "Labor Defender" from 1926 to 1937; the use of the pictorial statistical methods of Viennese philosopher Otto Neurath and Cologne artist Gerd Arntz in "Photo-History" magazine in 1937 and 1938; and the formation of the New York Photo League, which was active from 1936 to 1951 and whose genealogical ties to "Labor Defender" complicate the group's professedly straight, documentary aesthetic of the 1930s and 1940s. Taken together, these studies reframe American photography of the interwar period between art and mass culture.
Collective Forms: Photography, Print Culture, and Radical Labor between the World Wars
"Collective Forms" examines the role of photography within the American radical labor press of the 1920s-1930s. Focusing on workers' pictorials and workers' camera clubs, the project considers how these cultural formations reshaped the interwar public sphere and reimagined labor as a community. It surveys photography's use across a range of publications and presentational formats to demonstrate how tactics such as collectivized authorship, photomontage, protest photography, and serial narrative drew on precedents within the European and Soviet communist press while engaging the conditions of the domestic media ecosystem and working-class public. The project argues that these representational practices destabilized the historical, linguistic, and racial parameters of capitalist nation-building to organize workers for an international proletarian movement. This project likewise advances an understanding of photography as a social-relational form and the collective as a paradigm with which to rethink photography's history.