2021
Leopoldo Peña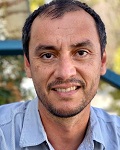 Dissertation Abstract
"On the Art of Animating Images"

On the Art of Animating Images is an interdisciplinary research project on photography in the context of early 20th century Mexico-United States transnational relations. I analyze how photography influenced literary and visual productions that register the rise of the U.S. as a world power, and of Mexico as modern and democratic nation. For the works discussed in On the Art of Animating Images, photography offered a means to counteract the eugenics-based paradigms through which Mexico, its citizens and Mexican immigrants in the United States were defined as primitive. At its core, this dissertation holds that photography allowed for the assimilation of national and international cultural phenomena and enabled a narrative of the modern nation as the zenith of a revolutionary achievement. On the one hand, photography created a space where artists reflected on the intersection of national and international aesthetic trends. On the other, photographic reproduction logic facilitated the presentation of a modern and democratic Mexico by suggesting that the nation was emerging as a picture during a process of sociopolitical upheaval.
The first chapter, "Abstraction", analyzes Anita Brenner's influential book, Idols Behind Altars. With images by Edward Weston and Tina Modotti, Brenner's book remains an essential piece providing insight into Mexican culture and offering Mexico as a safe haven to the Jewish diaspora. My analysis of Brenner's book details how photography served as a visual means to solidify cultural iconography and proposed a theory to articulate cultural continuity. In her work, Brenner drew from photographic reproduction logic to argue for a direct connection between pre-Columbian nations and modern Mexico. For her, Mexico's modernity was a direct manifestation of an indigenous referent. The second chapter, "Sublimation", explores the writings of Salvador Novo, chronicler and conservative critic, who commented on photography to question the rise of mass culture. His critique of the medium was ever changing: he both detested and admired it. Thus his statements from the 1920s and 1930 make visible the popularization of photography and its rise as a recognized art form. In Novo's writing one gets a glimpse of how photography instilled the promise of immediate access to the public sphere as the medium flirted with political forms of representation. Significantly, Novo's work explains how photography became a language for intellectuals to partake in a global cultural phenomenon that sought to merge metropolitan centers and national peripheries. The third chapter, "Retraction", highlights the work of Enrique Gutmann, a German exile, anti-fascist photographer and journalist. Gutmann's photography and writing promoted Mexico as a socialist nation through transnational networks. In the 1930s, his work defended Mexican President Lázaro Cardenas as a moral and democratic leader. Gutmann's work combined the aesthetic of socialist realism and proletariat literature and call for an art to resist transnational fascism.
On the Art of Animating Images underscores how in the context of the interwar period and the post-revolutionary phase of the Mexican Revolution, photography offered a new language to reflect on Mexico's modernity and helped push against the effects of racial scripts in the United States and international fascist movements.