2013, 2018, 2019
Judd Creighton Kinzley
Associate Professor
University of Wisconsin-Madison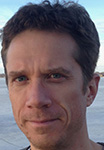 Staking Claims to China's Borderland: Oil, Ores, and State Building in Xinjiang, 1893 to 1964
Resources such as gold, oil, iron and tungsten played a central role in the twentieth century transformation of China's imperial frontiers into national borders. Focusing on a series of campaigns to gain access to the rich natural resource wealth of China's westernmost province of Xinjiang, my work seeks to recast the state and nation building process in China's far west. Far from a top-down story of inexorable national integration, the case of Xinjiang reveals a decentralized, lurching process characterized as much by contingency, cross-border collaboration, and luck as much as it was by central state power.
Arms for Ores: China and the Making of an American Foreign Aid Regime, 1941-1949
The March 1941 Lend-Lease Act marked the beginning of a massive transpacific material exchange between China and the United States that continued throughout the 1940s. This exchange of US guns, petroleum, and bank notes for Chinese tungsten, hog bristles, and tung oil transformed China and East Asia more broadly in ways that have yet to be understood. While previous scholarship on the act and postwar aid has largely focused on high politics and diplomacy, this project makes the objects themselves central. The study's approach exposes the important but often overlooked populations, institutions, and infrastructures charged with producing and moving these objects. Drawing on newly uncovered archival sources collected on three continents, this work offers unique insights into US-China relations and the formation of modern China and Cold War East Asia, as well as a new perspective on how foreign aid helped form economic and logistical frameworks that continue to shape the world.
Uneasy Allies: Sino-American Relations at the Grassroots, 1941 to 1949
In this conference we will explore Sino-American relations during the 1940s from a grassroots perspective. Pushing back against the hegemony of Cold War narratives, we have gathered together scholars who are focused on understanding the individual interactions between Americans and Chinese in China at all levels of the socio-economic spectrum. This perspective allows for powerful new insights into the formation of modern China, the development of institutions of governance and science, the sustained frictions between America and China, and the creation of the institutions and infrastructures that continue to shape American dominated Cold War East Asia.