2018, 2023
Jesse Drian
University of Southern California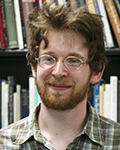 Networks of Space and Identity: Origin Narratives and Manifestations of the Itsukushima Deity
My dissertation examines the religious imagination of Itsukushima Shrine from 1200-1600 to investigate the translocal networks involved in the production of shared knowledge concerning local Buddhist and kami deities. Taking Itsukushima Shrine as a central node rather than as the object of study, the dissertation traces how scholarly monks established connections between different deities and sacred spaces through the writing, circulation, and compilation of temple and shrine origin narratives (jisha engi) and encyclopedic anthologies about the gods. The dissertation shows how seemingly site-specific narratives and practices incorporated details about other gods and sites to emphasize their commonalities and linkages. Through these connections, Itsukushima transcended geographic boundaries and became a crucial part of networks of sacred space extending throughout Japan. Focusing on interrelations rather than a single deity, the dissertation approaches the study of the gods from a new perspective outside of binary distinctions between transcendental buddhas and local kami deities.
Appointed as a Public Scholar to the Richard C. Rudolph East Asian Library, University of California, Los Angeles
With a core collection of early scrolls, manuscripts, sūtras, and printed books in a variety of languages and formats alongside new acquisitions of modern, multi-media archives documenting the arrival to and building of Buddhist traditions on the west coast of the United States, the Richard C. Rudolph East Asian Library at the University of California, Los Angeles holds one of the world's best Buddhist Studies collections outside of Asia. The Buddhism Public Scholar will lead the effort to explore, interpret, and document the library's remarkable collection in order to make it more accessible to teachers, students, Buddhist congregations, and members of the public.