2008, 2016
Jesse Casana
Associate Professor
Dartmouth College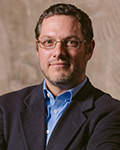 CORONA Archaeological Atlas of the Middle East
Archaeologists and other researchers increasingly recognize the extraordinary potential of declassified, Cold War-era CORONA satellite imagery to revolutionize how we locate, map and interpret archaeological sites and ancient cultural landscapes in the Middle East. Yet this resource remains the purview of a small group of specialists, largely due to the substantial technical expertise and costly software and hardware that working with the imagery currently requires. This project will apply newly developed image processing techniques to produce a digital CORONA satellite imagery-based atlas of the Middle East. The atlas, available both online and as a set of DVDs, will provide archaeologists and other scholars with easy access to high-resolution, geographically correct CORONA imagery.
The CORONA Atlas Project: Expanding Access to Historic Satellite Imagery on Global Scale
Principal Investigator. Project Team: Jackson Cothren, University of Arkansas.

This project expands scholarly utilization of declassified, 1960s-era CORONA satellite imagery on research projects through the world. Because it predates much modern development, CORONA imagery, initially collected for intelligence purposes, preserves a high-resolution view of past landscapes that is invaluable in archaeology, geography and other fields. The CORONA Atlas Project has worked since 2008 to develop better methods to spatially correct CORONA imagery, and to make it publicly available through an open-access online database. The ACLS Digital Extension Grant supports the launch of a new global CORONA Atlas, the creation of online tutorials and research tools, as well as a series of intensive workshops to provide technical training and collaboration on individual projects.