2007, 2011
Jacob P. Dalton
Assistant Professor
University of California, Berkeley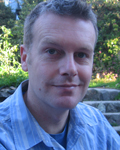 Liberating Demons: Violence in the Tibetan Assimilation of Buddhism
This project focuses on two unstudied and related texts dating from Tibet's so-called dark age. The first is an elaborate telling of a myth in which the Buddha violently subjugates the demon Rudra. The second text is a tenth-century manuscript from Dunhuang that describes a remarkable Buddhist rite of human sacrifice. As Tibetans emerged from their "dark age," the new court labelled such violent rituals heretical and forbid their performance. Yet the rite and its attendant myth continued to influence the Tibetan religious imagination. The final chapters of the project examine how later Tibetans reacted to the violence of their own dark origins, and how in many ways their rhetoric has mirrored our own representations of Tibet and even of religion in general.
On the Origins and Early Development of Tantra, Buddhist Ritual Manuals from Dunhuang
A century ago, a cache of manuscripts was discovered in a cave near Dunhuang on the old Silk Road. Among the documents were several hundred tantric texts in Tibetan, almost all ritual manuals. The advent of the tantras in seventh- and eighth-century India marked a watershed for ritual technologies across much of Asia, yet this important repository of ancient texts has yet to be mined. Ritual manuals of the sort found in Dunhuang were crucial to the evolution of the tantras. Evanescent, often locally produced, and ever open to revision, they were the literary crucible in which the tantras were forged. This project investigates what the Dunhuang manuscripts can tell us about the origins and early development of Tantra in India.