2020
Izetta Autumn Mobley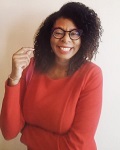 Dissertation Abstract
"Troublesome Properties: Race, Disability, and Slavery's Haunting of the Still Image"

Troublesome Properties: Race, Disability, and Slavery's Haunting of the Still Image interrogates race, disability, slavery, and the visual, arguing for a reorientation of disability studies toward a comprehensive analysis of how Atlantic slavery structured the West's conceptualization of the abled body. Slavery haunts the aesthetic impulses, discursive engagements, and visual formations that construct
both disability and race. Slavery and disability have been historically mutually constitutive, establishing a network of power relations that define how the United States understands citizenship, sovereignty of the body, capital, labor, and bodily integrity. Troublesome Properties' intervention places photography –
specifically nineteenth-century daguerreotypes, cartes de visites, and portraiture – in conversation with race, disability, and slavery, inviting a critical look at the social resonance of photographic production. This interdisciplinary project is deeply invested in the nineteenth century and critically considers how visual imagery establishes concepts of disabled and abled bodies.
The visual and material analysis of visual culture and photography links my discussion of disability to racially marked bodies, explicitly illustrating how slavery haunts how we see and tie Blackness to disability. The illustrations, photographs, medical records, biographies, and ephemera of conjoined African American twins Millie and Christine McKoy serve as evidence of the troubled definitions of consent, care, property, and exploitation inherent in enslavement, disability, and display. Octavia Butler's 1979 speculative novel, Kindred, anchors my discussion of the impact of disability on Black disabled women. Black scholars, artists, and historians have consistently employed photography as a visual tool to assert the humanity of Black people. The photographic suite Dorian Gray by Yinka Shonibare, a series that makes overt the parallels between disability and colonialism, are placed in conversation with W.E. B. Du Bois' American Negro exhibit, demonstrating how race, disability, and the visual construct notions of which bodies matter, when, where, and why. In Troublesome Properties, I argue that we must approach visual production, material culture, and disability studies with the intention to reclaim the marked, raced, gendered, and disabled Black body, using slavery and an optimistic
pessimism to construct a complex genealogy for disability studies.