2021
Heider Ismael Tun Tun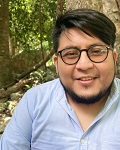 Dissertation Abstract
"Human Rights in the Mayan World: Rural Church and Indigenous Activism in Guatemala, 1943 -1983"

My dissertation, "Human Rights in the Mayan World: Liberation Theology and Mayan Activism in Huehuetenango and El Quiche, Guatemala, 1944-1992" traces the relations between indigenous communities and the Catholic Church in the Guatemalan departments of Huehuetenango and El Quiche and the Catholic indigenous and peasant groups who organized to protect human rights. The unique interactions between the Guatemalan Catholic Church and indigenous communities allowed for the possibility of both to become human rights advocates that responded to abuses committed during the Guatemalan armed conflict (1960-1996). While current debates about human rights in Central America assume that local activism is merely a response to violence, my work goes beyond this narrative and demonstrates that this commitment towards human rights is the product of half a century of efforts including the creation of cooperatives, the colonization of new territories for settlers, the coordination of peasants' unions and the cooperation among workers in rural and urban areas. I argue that the human rights activism of indigenous intellectuals and leaders like Rigoberta Menchu and Daniel Pascual is the result of the intellectual and community-based efforts accomplished by indigenous Catholic leaders since the 1940s.
My work presents a Mayan perspective of History and Human Rights. This perspective views the colonial relations embedded in the genocidal practice of the 1980s and current human rights abuses in Guatemala through the lens of an ancestral notion of time: a cyclical time frame and long-count of 500 years, which acknowledges the repetition of inequity, violence, racism, land disputes, and displacement of indigenous peoples, but does not deny the possibility of change. I use this time frame to connect the events of the Guatemalan armed conflict with the responses of Mayan communities fighting for their rights and social justice. My dissertation provides a new account of how local communities engage with human rights, and how peasant and indigenous organizations in existence before the Guatemalan Genocide (1980-1982) are connected to the human rights movement in Guatemala. Understanding the ways in which indigenous peasants from rural communities have organized since the 1960s presents a contribution currently missing from traditional accounts of Modern Guatemala History.