2020
Evelyn Saavedra Autry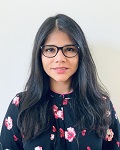 Dissertation Abstract
"The Production of Female Indigeneity in Peruvian Narratives: A Study of Gender-Based Violence, Indigenismo, and Peru's Internal Armed Conflict"

In my dissertation research, I construct a genealogy of gender-based violence that offers an in-depth examination of the colonial mechanisms behind the objectification of Indigenous Peruvian women. In an effort to add breadth to Andean studies, I examine a heterogenous body of texts that includes chronicles of the Spanish conquest, foundational indigenista works, popular indigenous art, literature of the internal armed conflict in Peru, and testimonies from Andean women who belonged to the Shining Path militant group. I analyze how Andean female figures and their experiences of enslavement, torture, rape, and femicides have been discursively constructed in four historic moments: the establishment of the colonial system in the Andes, the emergence of indigenista political ideologies, Peru's internal armed conflict, and the creation of the Peruvian Truth and Reconciliation Commission.
Drawing together the fields of literature, history, sociology, and studies on coloniality, gender, and memory, my dissertation provides insights into issues regarding ethnic discrimination, sexism, trauma, and the representation of sexual abuse. The chapters of this study interpret exclusion/inclusion discourses of citizenship to examine the interlocking of gender with other categories such as race, class, language, and nation. Grounding my argument on a critique of Peruvian cultural productions, I identify how the processes of racial inferiorization and institutional sexism have positioned Andean women as outsiders within their own nation.
My research is a critical step towards expanding memory, testimonial, Andean, and gender studies in the Peruvian context. My contribution is precisely to read the feminine Andean body not only in terms of a gender identity but as a social, racial, and ethnic one. The analysis of chronicles, fiction, and testimony merits a reading that make visible the dehumanization of indigenous women in society. From this perspective, my dissertation responds to how processes of coloniality make possible the continuing suffering, servitude, and disdain towards rural Indigenous women in Peru.