2015, 2017
Ernest Billings Brewster
Doctoral Candidate
Harvard University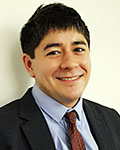 Between Faith and Logic: Buddhist Philosophy of Religion in Ming China
In the Ming Dynasty (1373-1644) Buddhism underwent a radical transformation in response to challenges from Western science and religion. My dissertation aims to answer the question: In order to ensure its survival, how was Chinese Buddhism reoriented toward a scientific and practical direction? I argue that it was Yogacara that provided the ideal strategy to counter the challenges from the Jesuits, for its scientific logic and epistemology in its explanation of reality, which was as rigorous as Western analytic philosophy. And most importantly, I will account for how the Ming Buddhist scholars reconfigured their own tradition, and carried it into modernity.
The Yoga of Dying: Consciousness and Mortality in Tang Yogacara Buddhism
My project explores the relationship between the practice of Yogacara, an Indic tradition of Buddhism that means "the practice of yoga," and its systematic philosophical inquiry into the nature of death. I examine the works of Xuanzang (602-667), a Silk Road traveler who, during the early years of the Tang Dynasty, transmitted the Yogacara texts from Maghada in northeastern India into China. Although he has obtained wide renown as a traveler and a translator, Xuanzang has not received due recognition as a philosopher. My dissertation addresses this lacuna by focusing on Xuanzang's analyses on what death is. In his corpus, the doctrine of karma is wedded to a program of yogic training and ritual intervention designed to attenuate physical and psychological stress at the end-of-life.