2021
Ena Selimovic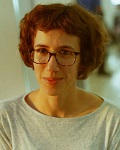 Dissertation Abstract
"Forms of Foreignness: The Racialization of Language in Contemporary Diasporic American Literatures."

The Racialization of Language in Contemporary Diasporic American Literatures
This dissertation places twentieth- and twenty-first-century diasporic American literatures and languages in dialogue with Balkan inter-imperiality and multilingualism. The texts in my archive—including the work of Gary Shteyngart, Jhumpa Lahiri, Téa Obreht, and Dubravka Ugrešić—dramatize alternative models for comparative race studies and migration studies, revealing how racio-religious and xenophobic rhetoric grounded in language politics fuels American racial discourses. The variously multilingual texts I analyze engage and revise what I call contemporary "forms of foreignness." In dialogue with these texts, I develop an expanded, inter-imperial framework for the analysis of multilingualism in contemporary American literatures. Through its focus on the post-Yugoslav diaspora in the United States, the project expands the purview of contemporary American literatures and comparative race studies in four directions: geopolitical (to regions typically sidelined as marginal to American and world history), racio-religious (to racialization processes embedded in religious traditions), imperial (to empires beyond those usually under the purview of Anglophone postcolonial studies), and linguistic (to languages marked
"foreign" to concepts of Americanness). These expansions to the archive constituting American literatures acknowledge that the construction of Americanness extends from and transforms the project of Europeanness. In conversation with scholars like Laura Doyle, Rebecca Walkowitz, and Yasemin Yildiz, the dissertation reveals the centrality of language categories to both contemporary processes of racialization and to literary experimentation in the inter-imperial longue durée.