2007, 2008
Emily Alice Katz
Doctoral Candidate
Jewish Theological Seminary of America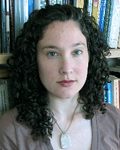 That Land Is Our Land: Israel in American Jewish Culture, 1948-1967
This dissertation uncovers the story of how American Jews conceived of and related to Israel between 1948 and 1967 and examines the powerful role that Israel played in the construction of postwar, post-Holocaust American Jewish identity and culture. This identity was informed by a particular (positive) vision of Israel, an Israel that American Jews came to shape and to know through a specific set of cultural practices, such as participating in religious life; dancing the hora; importing and purchasing Israeli-made objects; visiting exhibitions of Israeli art; and by writing and reading about travel and life in Israel. As a universalizing cause that eclipsed the political and cultural divisions of the prewar Jewish community, Israel served as a vehicle into the American mainstream.
That Land Is Our Land: Israel, American Jewry, and American Culture in the Postwar Period
In the immediate postwar decades, American Jews sought to gracefully navigate a web of national, religious, and ethnic loyalties, a scenario both enlivened and complicated by the existence of Israel and its wide-ranging claims on the American Jewish community. In response to this predicament, American Jewry crafted a vision of Israel, idealized but multi-hued, as cultural, spiritual, and political analogue to postwar America. Integrating Israel into the world they inhabited, American Jews re-made postwar American Jewish culture and reoriented the priorities of the organized community. Ultimately, in defining Israel as both a communal cause and a means of outreach to non-Jews, American Jews indelibly shaped American Cold War culture and the nature of national identity in the postwar period.