2007, 2013
Daniel A. Shore
Assistant Professor
Georgetown University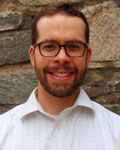 Milton and the Renunciation of Rhetoric
What role did Milton play in the decline of humanist rhetoric? The rapid changes of the Interregnum gave rise to new standards of credibility that made the precepts of classical rhetoric increasingly obsolete. But the rejection of traditional forms of persuasion led not to the "end of rhetoric" but rather rhetoric's transformation. Milton and his interlocutors found new sources of persuasive force in the emerging ideals of autonomy, disinterestedness, and undistorted communication. The moments in Milton's writing where he renounces efficacy, purpose, agency, eloquence, persuasion, and indeed rhetoric itself signal a reinvestment in public debate and a renewed concentration on poetic truth.
Cyberformalism: The History of Syntactic Forms in the Digital Archive
This book project uses searchable digital archives to trace the history of syntactic forms. Humanities scholars have produced countless histories of words and concepts as well as social and cultural contexts, but this project aims to add a previously overlooked object of study to this repertoire. Only with the recent development of large-scale, searchable digital archives like Google Books and Early English Books Online has it become possible to track the genesis, diffusion, and variation of syntactic forms across the full sweep of the textual past. Even as it retells the histories of syntactic forms, this project explores the new media that make these histories possible.