2014, 2016
Chukwuma Onyebuchi Okeke
Lecturer I
University of Nigeria, Nsukka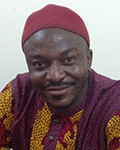 Cognitive Domains of the Sense Relations in Selected Igbo Verbs
The syntax and semantics of the Igbo verb have attracted the interest of scholars in the field, who have adopted different approaches to provide answers to the question of meanings in Igbo verb roots. The study adopts a descriptive survey using the appraisal tool to identify the manifestations and use of the verbs h?? (see) and n?? (hear) in two significant Igbo literary works, Ihe Aghasaa and J?? Obinna. It seeks to ascertain how and the extent to which the structuralist, generative, semantic and lexicographic analysis of Igbo verbs by previous scholars can be improved using a polysemy paradigm of cognitive semantics in context. This is because the prevous theories present Igbo verbs as having many English eqivalents which naturally will lead to the conclusion that all Igbo verbs are polysemous. The study therefore, investigates how a polysemy approach of cognitive semantics offers more insightful explanations than the previous approaches.
The Interface Between Semantics and Pragmatics: Focus on Verbs of Perception in the Igbo Language
The number of senses in an Igbo verb has remained topical in Igbo syntax, semantics and pragmatics. This study engages with the interface between semantics and pragmatics. It investigates the senses of Igbo perceptive verbs to further establish the basic argument that compositional content of lexical items and contexts of usage play very important roles in deriving the senses in Igbo verbs. The study adopts a descriptive survey using tape recorded utterances of the Igbo language speakers in Nigeria, to identify the manifestations and uses of all Igbo perceptive verbs h?? (see), le? (look), n?? (hear/smell/taste), me?t?? (feel/touch). The occurrences of the above verb roots in the utterances shall be shown and precisely analysed. The study seeks to establish how and the extent to which the gap between linguistic meaning and speaker's meaning can be filled by context.