2012, 2015
Christine I. Ho
Assistant Professor
University of Massachusetts Amherst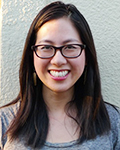 Drawing From Life: Sketching, Landscape, and the Formation of Socialist Realist Guohua
This dissertation explores how sketching practice became the basis of the reform of traditional brush-and-ink painting (guohua) during the first 17 years of the People's Republic of China (1949-1965). Through an investigation of state-sponsored sketching tours undertaken by landscape painters Fu Baoshi, Li Keran, and Guan Shanyue, this project argues that sketching was a form of Maoist thought reform that reshaped a formerly elite art into a revolutionary medium. Under a regime that called for the unity of art and politics, the perceptual and physical demands of sketching practice redefined aesthetic modernity, national landscape, and the relationship between intellectuals and the collective.
Collective Brushwork
This project examines collective art production (jiti chuangzuo) in modern and contemporary Chinese art. A working method used across the arts—literary, performing, and visual—collective production was designed to model social relations on a miniature scale, redistribute hierarchies of authority and knowledge, channel mass creativity, and transform creative energy into productive labor. Beginning with an analysis of its historical emergence and theorization in the 1930s, continuing through the persistence of collective production from the fine arts (ink painting, history painting, sculpture) to mass arts (worker-peasant groups, public murals, Red Guard manuals) of the socialist period, collective art production still resonates within the social practices of contemporary art today.