2015, 2017
Chidi Ugwu
Lecturer II
University of Nigeria, Nsukka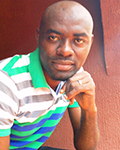 Negotiating Connections: An Indigenous Ethnography of the Local Landscape of a Transnational Health Intervention in Southeast Nigeria
To local African publics, 'modern' intervention initiatives embody the nation-state and, at some distant level, the Western world. This indigenous ethnography, set in a locality in southeast Nigeria, will step further from the critique of the biomedical system of knowledge and power (as has been more commonly advanced by other scholars) to investigate local encounters with the malaria intervention initiative, engaging it not necessarily as a public health concern but as a platform on which the 'global' system interfaces with the local. Analysis will explore how the local publics envision, through the intervention initiative, access to state patronage and externally-driven potentials for progress. Exploring natives' imaginations of what potentials and possibilities that modern intervention initiatives embody will help us to grasp not just their visions of the world but also their changing images of their globalizing setting.
"We do not Father another's Child": An Exceptional Filiation Practice among the Igbo of Southeast Nigeria: The Enugwu-Ezike Village Group
Filiation is a sphere in which culture greatly outflanks biology. Across the Igbo culture area, southeast Nigeria, custom may confer paternity of a child on a person that did not actually sire the child. Only one Igbo community, Enugwu-Ezike, is on record as having a filiation custom that is exclusively biological. This difference is what excited my curiosity about that village group's kinship system. Besides, studies that recorded such exclusively biological filiation procedure elsewhere did not analyze how this might shape other aspects of the kinship system. This ethnography is designed to explore the filiation custom of the Enugwu-Ezike, aiming to determe: how their filiation procedure affects other aspects of their kinship system; why and how their filiation procedure came to differ from the general Igbo pattern which is largely socially constructed; and the place of their filiation custom within contemporary nation-state realities, in terms of prospects of change and/or continuity.