2014, 2018
Caitlin A. Fitz
Assistant Professor
Northwestern University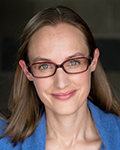 Our Sister Republics: The United States in an Age of American Revolutions
This project shows how the Latin American independence movements of the 1810s and 1820s shaped the United States. Based on archival research in Spanish, Portuguese, French, and English, as well as on extensive and systematic work in digitized collections, the project reveals the wave of inter-American revolutionary fervor that engulfed the early United States. It shows that US observers were so emotionally invested in events to the south that Latin America came to serve as a critical conceptual framework through which people all over the country understood republicanism, revolution, and race—and thus America itself.
Mundrucu's America: How a Black Brazilian Revolutionary Shaped the US Battle Against Jim Crow
This project tells the forgotten story of Emiliano Mundrucu, a black Brazilian exile who sparked one of the United States' first legal battles against Jim Crow. Mundrucu was born in Brazil in 1791, as the Haitian Revolution began; he died in Boston 72 years later, just months after organizing a public celebration of the Emancipation Proclamation alongside figures such as Frederick Douglass. In between, he led a failed revolution in Brazil, fought for independence in the aspiring antislavery republic of Colombia, and helped to radicalize US abolitionists after a Nantucket steamboat captain denied him and his family equal accommodations. Mundrucu was one of Jim Crow's earliest courtroom challengers, and his story illuminates inter-American influences on US abolitionism and equal rights activism.