2006, 2010
Brodwyn M. Fischer
Associate Professor
Northwestern University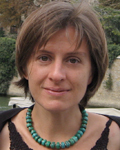 Cities after Slavery: Abolition, Property, and Urban Migration in Rio de Janeiro and Recife, 1880-1960
This is a study of the interlocking histories of post-emancipation and urbanization in modern Brazil. Few Brazilian social histories fail to reference these trajectories, yet their study remains mostly separate, and thus incomplete. Urban migration was part of the post-abolition process, and Brazil's urban inequalities were shaped by the fact that many migrants, or their descendants, were ex-slaves. To understand either urbanization or twentieth century struggles over Afro-Brazilians' rightful place in the national fabric, we must analyze both phenomena in concert. This project examines these questions by tracing the history of Afro-Brazilian property holding in Recife and Rio de Janeiro, from the 1880s through the mid- twentieth century.
Great Migrations: Emancipation and Urbanization in Brazil, 1888-1970
This project explores the causes and consequences of the internal migrations that transformed Brazil from a rural to an urban nation in the century following slavery's abolition. It posits that Brazil's 20th century history was profoundly shaped by the legal, economic, political, and cultural divides that separated (or were thought to separate) the countryside from the city, and that the rural-urban distinction sustained many of Brazil's deepest racial and social inequalities. In this context, rural migrants' efforts to claim and define urbanity constituted far more than individualistic stabs at social mobility. They were also an important part of much larger struggles over the nature of freedom, the reach of public power, and the contours of national culture in twentieth century Brazil.