2008, 2016
Benjamin H. Brose
Assistant Professor
University of Michigan-Ann Arbor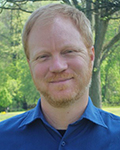 Buddhist Empires: Clergy-Court Relations in Medieval China
This dissertation examines the relationship between religion and politics in medieval China. Specifically, it details the various ways political systems influence the development of religious movements and how religious communities adapt to shifting political conditions. Among the questions addressed in this research are: How and why do alliances form between secular and religious leaders? What is the nature of patronage contracts between royal families and powerful religious lineages? How does the state benefit from its support of religious communities and how does that support influence the development of religious doctrine and praxis? Finally, what is the role of government in the production, promotion, and control of religious art and literature?
Embodying Xuanzang: A Medieval Monk in the Modern Imagination
This project examines the process of sanctification and deification in the context of Buddhist traditions in East Asia. It centers on one of the most famous Buddhist monks in the history of Asia, the Chinese cleric, pilgrim, and scholar Xuanzang (600/602–664). Rather than reexamine Xuanzang's own life and times, this study aims to document and interpret instances where Xuanzang has been re-embodied—by means of spirit mediums, relics, rituals, and icons—since his death. This exploration of the post-mortem history of a renowned Buddhist cleric is intended to broaden our understanding of the evolution and malleability of historical and hagiographical narratives, the reception and adaptation of Chinese Buddhist traditions in other parts of Asia, and the development of popular cults.