2018, 2023
Aruna Keerthi Gamage
Postdoctoral Fellow
Philipps-Universität Marburg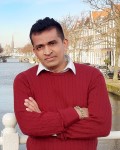 Buddhaghosa's Critique of Divergent Buddhist Views: A Doctrinal Study Mainly Based on Pāli Commentarial Exegesis
This project critically analyses divergent views of those labelled 'vitaṇḍavādin' by Buddhaghosa and the dialogic debates related to them that emerged on specific doctrinal points in the Pāli canon, along with his assessment of these views. This study looks at the hermeneutic devices developed by Buddhaghosa including his creative treatment of canonical sources. This study also uncovers important evidence for understanding Buddhaghosa's attitude towards the "margins" of the Pāli canon by elucidating references to and categorizations of paracanonical and "apocryphal" scriptures in the Pāli commentaries.
An Annotated English Translation of the Exegesis of the First Grave Offense (parajika) in the Vajirabuddhi-Tika
This project produces the first English translation of the exegesis of the first grave offense for monks in Vajirabuddhi-Tika (Vjb), the oldest legal sub-commentary, ca. tenth century CE, on the Mahavihara school's monastic law code (Vinaya). This exegesis spans 54 printed pages in the Sixth Council Burmese edition. In order to base the translation on a text that is as reliable as possible, ten palm-leaf manuscripts are used to supplement the three available editions. Relevant sections of the more recent legal sub-commentaries are referred to in the footnotes to show how they have reused and discarded Vjb's statements. The translation is accompanied by a detailed introduction discussing Vjb's quotes from lost commentaries, hermeneutical strategies and legal tenets.