2009, 2013, 2020
Ari Daniel Levine
Associate Professor
University of Georgia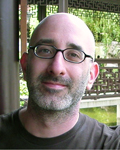 Cultural Memory and Urban Space in Song Dynasty Kaifeng
This research project investigates cultural memory and urban space in the city of Kaifeng, the capital of the Northern Song dynasty (960-1127), which fell to Jurchen invaders in 1126-7. Members of the post-conquest literati elite responded to this political cataclysm and cultural crisis with a sense of homelessness. Relocated to South China, they left behind a literature of exile and defeat, which expressed nostalgia for the city's street life and urban spaces. By examining this extensive corpus of published and manuscript sources, this study explains how Kaifeng became a site of collective memory, and how literati produced a refashioned past that salved the trauma of personal and national loss.
Standards of Validity in Late Imperial China
Reading Biji: Randomness, Fluidity, Materiality, and Emotionality
This workshop aims to assess biji (notebooks) as a genre of writing and as sources for scholars who study the society, culture, and literature of Song China (960-1279). The discussion will consist of four themes. The first group of scholars look into the unique epistemology of "randomness" embodied in the often unsystematic appearance of biji. The second group of readers address biji as a genre and examine the often-fluid boundaries that distinguished biji from other types of texts. The third group explores biji as an important source for studies of material culture and everyday life. And the fourth group draws on biji as a source for understanding how Song people addressed interpersonal relationships and feelings.