Board
Theodore S. Gonzalves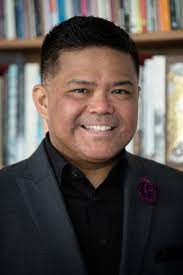 Theodore S. Gonzalves is a scholar of comparative cultural studies. He has taught in the United States, Spain, and the Philippines. He previously served as interim director of the Smithsonian Asian Pacific American Center. Currently, Gonzalves is a curator at the National Museum of American History, Smithsonian Institution, in Washington, D.C.
Theo's publications include Stage Presence: Conversations with Filipino American Performing Artists (2007), The Day the Dancers Stayed: Performing in the Filipino/American Diaspora (2009), Carlos Villa and the Integrity of Spaces (2011), Filipinos in Hawaiʻi (2011) [co-authored with Roderick N. Labrador], Gossip, Sex, and the End of the World: Collected Works of tongue in A mood (2021), co-edited with A. Samson Manalo; and Smithsonian Asian Pacific American History, Art, and Culture in 101 Objects (2023).
He is currently serving on the editorial board of Amerasia Journal and is a founding editorial board member of Alon: Journal for Filipinx American and Diasporic Studies. Support for Gonzalves's work includes a senior Fulbright U.S. Scholar award, and senior fellowships at the Library of Congress, the Smithsonian Institution, and the University of North Carolina at Chapel Hill. Gonzalves was associate professor of American Studies at the University of Hawai'i at Mānoa and the University of Maryland, Baltimore County. At UMBC, he also served as a department chairperson. He served as the twenty-first president of the Association for Asian American Studies and has been appointed to the Distinguished Lecturership Program of the Organization for American Historians.