Haskins Lecture
The 2004 Charles Homer Haskins Lecture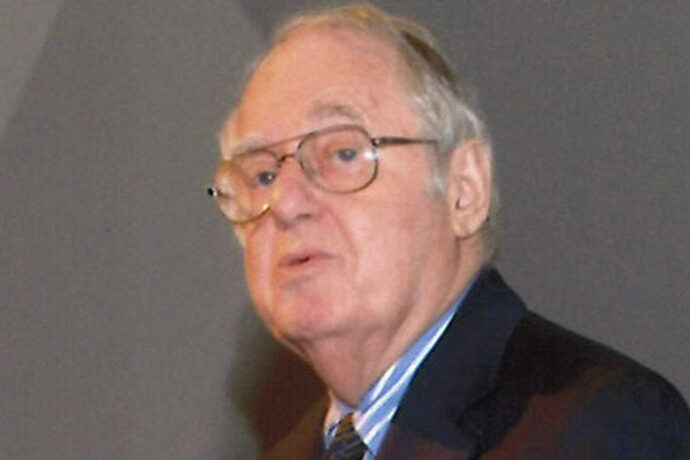 Peter Gay was born in Berlin, Germany in 1923. He emigrated to the United States in 1941. Gay received his BA from the University of Denver in Colorado in 1946, and his MA and Ph.D. from Columbia University in 1947 and 1951, respectively. He has also been recognized with honorary doctorates from several universities. From 1962 to 1969 he was Professor of History at Columbia University. He joined Yale University's History Department as Professor of Comparative and Intellectual European History in 1969 and was named Sterling Professor of History in 1984.
An author of more than twenty books, he has written extensively about the Enlightenment, the Weimar Republic, Sigmund Freud, and bourgeois culture. Among his most recent publications are The Bourgeois Experience: Victoria to Freud: Vol. V1 Pleasure Wars (1997), My German Question: Growing up in Nazi Berlin (1998), and Mozart (1999).
Peter Gay was director of The New York Public Library's Center for Scholars and Writers from 1997 to August 2003. A prolific author, distinguished professor, and one of the world's most respected scholars, Peter Gay has put his distinctive imprint on all stages of planning the Center, which provides fellows with privacy for study and writing, an environment for social interaction, and a forum for public discussion.
Gay's work has been recognized with numerous awards, including the National Book Award in the category of History and Biography for The Enlightenment: An Interpretation: Vol. I, The Rise of Modern Paganism,1967; the first Amsterdam Prize for Historical Science from The Hague, 1990; and the Gold Medal of the American Aca[1]demy of Arts and Letters, 1992. In addition, he was a Guggenheim Fellow in 1967-68 and in 1978-79, a Visiting Fellow at the Institute for Advanced Study in Berlin, Germany, and an Overseas Fellow of Churchill College University from 1970 to 1971. In 1988, he was honored by The New York Public Library as a Library Lion. The following year, he was elected to the American Academy and Institute of Arts and Letters. Professor Gay held an ACLS Fellowship in 1959-60.
The 2004 Charles Homer Haskins Lecture