News Article
MAG (International Association for the Humanities) Sponsors Forum in Kiev
A remarkable event took place in Kiev on October 31, 2014. Scholars from Belarus, Russia, Ukraine, and the United States gathered at a forum on "The Humanities and Democratization in Post-Soviet Lands" to discuss successes and missed opportunities since the collapse of the Soviet Union two decades ago. The objectivity and insight of the discussion were a welcome contrast to the war glowering in eastern Ukraine.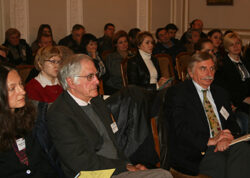 The forum was organized by the Mezhdunarodnaia Assotsiatsiia Gumanitarev or MAG (International Association for the Humanities), an organization that grew out of the now-concluded ACLS Humanities Program in Belarus, Russia, and Ukraine that had been funded by the Carnegie Corporation of New York.
A report on the forum appears in the current issue of MAG's Internet magazine, http://thebridge-moct.org/, authored by Andrzej W. Tymowski, director of ACLS International Programs.
The Bridge-Moct received a grant in 2014 from The Andrew W. Mellon Foundation. The grant has been administered by ACLS.