Press release
ACLS Welcomes Matt Sapienza as Chief Financial Officer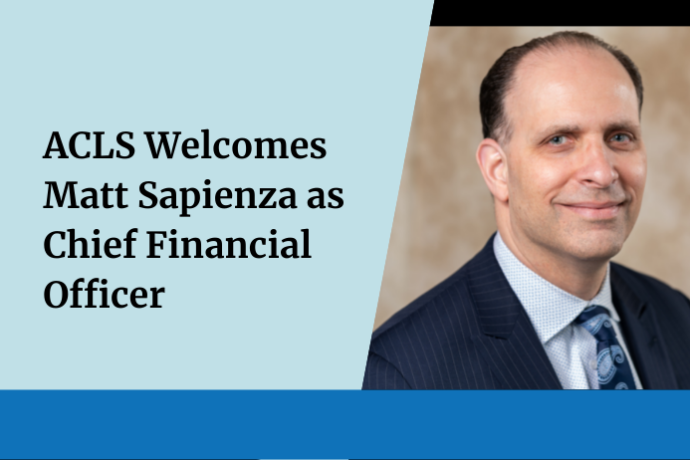 The American Council of Learned Societies (ACLS) is pleased to welcome Matt Sapienza as its new Chief Financial Officer. He will officially assume the role on February 14, 2022.
Working closely with ACLS President Joy Connolly, Vice President and COO James Shulman, program and fundraising teams, and the ACLS Board of Directors, Sapienza will lead the ACLS finance team and oversee accounting and financial systems including payroll and benefits administration, cash flow monitoring, preparation of financial statements, coordination of financial audits, and contributing to continued development and management of the ACLS endowment.
"We are delighted to welcome Matt Sapienza to ACLS. Coming from 17 years in key leadership roles at one of the country's most important – and complicated – institutions of higher learning, Matt brings consonance with our academic values, sensitivity to all aspects of the educational enterprise, and a deep working knowledge of non-profit financial management and strategy," said Connolly in announcing the appointment. "We sincerely thank Simon Guzman for the care, precision, and dedication he brought to ACLS for the past 11 years. We're confident that Matt will help us continue our work supporting scholars and scholarship across the humanities and interpretive social sciences."
Sapienza most recently served the Senior Vice Chancellor and Chief Financial Officer at the City University of New York (CUNY), where he worked for 17 years. There, he was responsible for overseeing and managing the finances and business relationships of the University's 25 colleges and professional schools, with overall management of $3 billion in state and city tax-levy operating funds, and more than $1 billion in tuition revenues. His portfolio also included the University's Long-Term Investment Pool, an endowment of over $300 million, as well as providing leadership for the University Budget Office, the Office of the University Controller, and the Office of Treasury Services.
Prior to CUNY, Sapienza served as the Deputy Budget Director at the New York City Department of Education (DOE). He began his public service career as a Senior Budget Analyst for the New York City Fire Department.
"I am excited for this opportunity to join ACLS and its team of dedicated finance professionals to ensure the integrity, accuracy, and efficiency of its financial systems and practices," said Sapienza. "I look forward to working with the staff and board in continuing to advance its strategic priorities and in strengthening its long-term financial position to best serve its worldwide community of scholars and supporters."
Sapienza holds a BBA in Finance from Pace University's Lubin School of Business, and an MBA in Finance from St. John's University.