Press release
ACLS Sustaining Public Engagement Grant Application Resources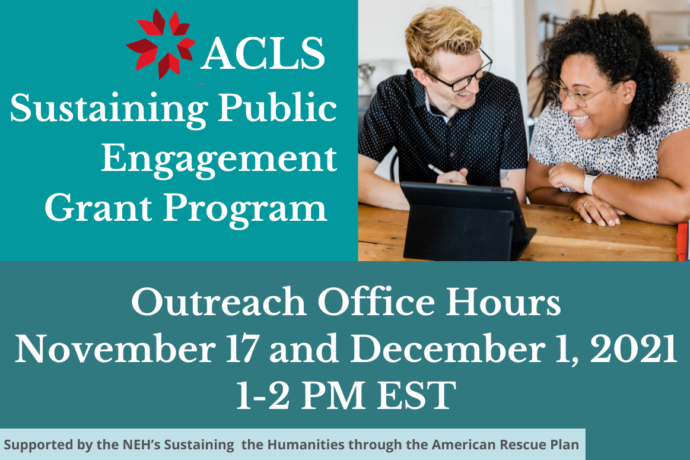 The American Council of Learned Societies (ACLS) has launched the Sustaining Public Engagement Grant Program, a $3.5 million responsive funding program made possible by a grant from the National Endowment for the Humanities (NEH). ​ACLS will award up to 40 Sustaining Public Engagement Grants ranging from $50,000 to $225,000 for terms of 12 months each.
Applications are due by 9 PM EST Tuesday, December 7, 2021.
Questions About the Application?
Join ACLS for Outreach Office Hours
Grants will support programs based at accredited American colleges and universities devoted to the co-creation of knowledge with diverse communities outside academia that have experienced staffing reductions related to pandemic conditions, programming setbacks, and/or loss of institutional capacity for publicly engaged work. Applications from programs based at minority-serving institutions, regional public colleges and universities, and community colleges are strongly encouraged.
Watch Informational Webinars on the Grant and Application Process
Questions? Contact [email protected].