Press release
ACLS Opens 2023 Leading Edge Fellowship Competition for Recent PhDs Committed to Social Justice
Program Partners Early-Career Scholars in the Humanities and Interpretive Social Sciences with 22 Social Justice Organizations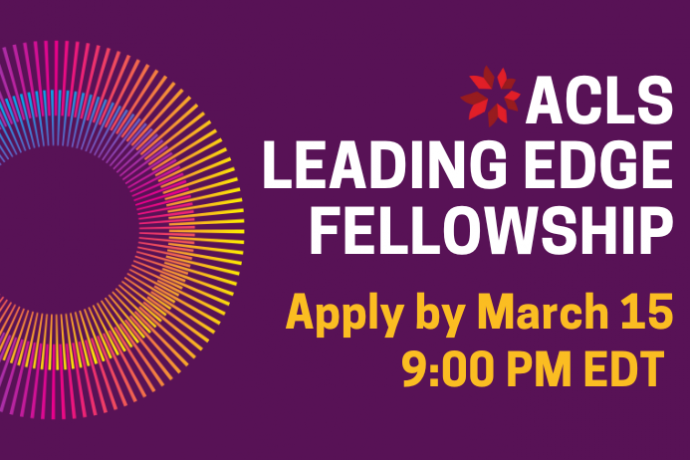 The American Council of Learned Societies (ACLS) announces the fifth competition for Leading Edge Fellowships, made possible by the generous support of the Mellon Foundation. The program demonstrates the dynamic capacity of the humanities to advance justice and equity in society.
In 2023, the ACLS Leading Edge Fellowship Program will offer 22 two-year fellowships partnering recent humanities and interpretive social sciences PhDs with organizations advancing social justice and equity in communities across the United States. The fellowships are designed to draw on the humanistic skills, capacities, and frameworks developed in the course of earning the PhD and provide a range of networking and career-building opportunities.
This year, ACLS is partnering with 22 nonprofit organizations including the Campaign for Southern Equality (Asheville, NC), Gender Justice (Saint Paul, MN), and Strategic Action for a Just Economy (Los Angeles, CA).
ACLS is now accepting fellowship applications, with submissions due by 9:00 PM EDT on Wednesday, March 15, 2023.
Each Leading Edge Fellow will receive a $66,000 stipend in year one, and $70,000 in year two, as well as health insurance, professional development funding, and mentorship. Fellows will contribute to initiatives and projects advancing the rights of immigrant workers and students, promoting strategic social change through the arts, and advocating for reproductive justice in communities like Saint Paul, MN and Dallas, TX. The fellows also will participate in a variety of professional development and networking activities designed to help translate the experiences of their two-year placements into post-fellowship career opportunities.
The Leading Edge Fellowship program welcomes applicants from diverse backgrounds including historically underrepresented groups such as Black/African American, Hispanic/Latinx, Asian American and Pacific Islander, American Indian or Alaskan Native scholars, first generation college students, scholars from low-income backgrounds, formerly incarcerated scholars, queer and trans scholars, and scholars with disabilities.