News Article
ACLS Shares 2020 Book Publications by Our Fellows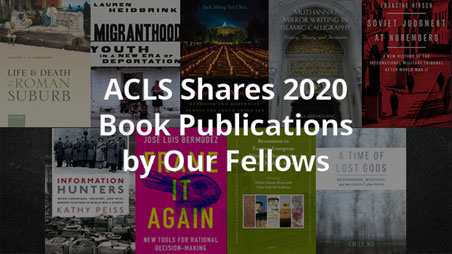 ACLS is delighted to present the following list of 2020 book releases by our fellows. These publications represent a range of humanistic scholarship, from Chinese Buddhism in Southeast Asia to the transnational migration and deportation of Central American youth, resulting from ACLS-funded research via our programs. Learn more about our many 
fellowship and grant opportunities
 in the humanities and social sciences.
ACLS fellows and grantees can also share their recent book publications with us at [email protected]. For additional publications by our fellows, see our previous round up of 2020 books releases.
---
Anthropologist Lauren Heidbrink received a 2017 ACLS Fellowship for research which sought to fill the gaps of scholarship on child migration and deportation in anthropology. Through her recent book, Heidbrink details how unaccompanied Indigenous youth travelling from Guatemala to Mexico navigate transnational migration and deportation.
---
Art Historian Alice Isabella Sullivan was among ten recipients of the 2019 Getty/ACLS Fellowship in the History of Art to research the art and architecture of Orthodox monastic churches in medieval Moldavia, post Constantinople. Her latest book examines "… issues of cultural contact and patronage, as well as the transformation and appropriation of Byzantine artistic, theological, and political models, alongside local traditions, across Eastern Europe."
---
During her 2014 ACLS Fellowship, Historian Francine Hirsch's project, Soviet Judgment at Nuremberg: A Cold War Story, focused on the role of the Soviet Union during the Nuremberg Trials that took place after World War II by the Allied forces.
---
Building on her 2017 ACLS Fellowship, Esra Akin-Kivanc, associate professor of non-western art history, provides the first full book on this understudied and historic form of Islamic calligraphy.
---
Through his 2018 ACLS Fellowship research, José Luis Bermúdez asked, "should values and decisions be influenced by how people frame the outcomes they confront and the choices they have to make?" Frame It Again answers this question, providing new problem-solving and decision-making methods for contentious, modern issues.
---
A Time of Lost Gods: Medium, Madness, and the Ghost after Mao follows Emily Ng's 2015 Mellon/ACLS Dissertation Completion Fellowship, examining religion in post-Mao China.
---
Classics professor Allison L. C. Emmerson's 2018 ACLS Fellowship research, repositioned tombs as important to Roman urban studies and argued that these tombs, located in Roman suburbs, were "…active spaces that both facilitated and furthered the social, religious, and economic life of the city."
---
Information Hunters stems from Historian Kathy Peiss's 2015 ACLS Fellowship research, in which she investigated the impact of preservation efforts by librarians, archivists, and scholars during World War II.
---
---
In 2015, Jack Meng-Tat Chia's dissertation project, Diasporic Dharma: Buddhism and Modernity across the South China Sea, funded by the Robert H. N. Ho Family Foundation Dissertation Fellowships in Buddhist Studies, explored the movement of Chinese Buddhism throughout Southeast Asia by following the lives of prominent monks—Chuk Mor, Yen Pei, and Ashin Jinarakkhita. This latest publication is an extension of this research.
---