News Article
The American Council of Learned Societies Awards 14 Project Development Grants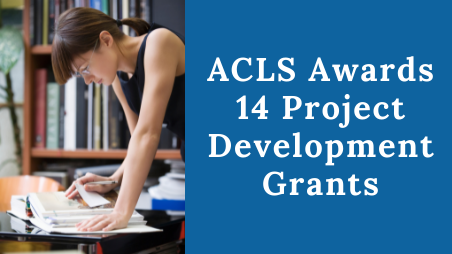 The American Council of Learned Societies (ACLS) is pleased to announce 14 new awardees for its Project Development Grants program.
Now in its fourth year, this ACLS program offers flexible support to faculty at teaching-intensive colleges and universities whose research projects will significantly advance humanistic studies and interpretive social sciences.
"At a time when teaching-intensive colleges and universities continue to be disproportionately affected by the COVID-19 pandemic in terms of funding and resources, ACLS is proud to support faculty at these schools who remain committed to work in their classrooms, as well as contributing scholarly excellence to the academy," said ACLS President Joy Connolly. "We are pleased to recognize these dedicated scholars, whose promising work advances the humanities and interpretive social sciences and directly engages with students and communities across the nation."
Projects awarded grants for the 2021-22 academic year represent schools from across the country and a wide range of subject materials, disciplines, and methodologies, reflecting ACLS's commitment to inclusive excellence. This year's awardees are:
Nick Dorzweiler, Visiting Assistant Professor, Political Science, Wheaton College. On Air: Harold Lasswell, NBC Radio, and the Psychotherapy Program for the American Masses
Deshonay Dozier, Assistant Professor, Geography, California State University – Long Beach. Contested Development: A Poor People's Movement for a Better Los Angeles, 1930s to 2020
Luis Ernesto Poza, Assistant Professor, Teacher Education, San José State University. To Be Seen and Heard: Dignity, Language, and Educational Rights in the United States
Philis M. Barragán Goetz, Assistant Professor, History, Texas A&M University – San Antonio. The Borderlands of Inclusivity: Jovita González and the Mexican American Civil Rights Movement
Tara Lynn Conley, Assistant Professor, School of Communications and Media, Montclair State University. Bound to Belong: Race and Mediated Life in an American City
Claire J. C. Eager, Visiting Assistant Professor, English, College of Wooster. Vertuall Paradise: Vaulting Ambitions Brought to Earth in Tudor and Stuart England
Leah Goldman, Visiting Assistant Professor, European History, Washington and Jefferson College. Creative Comrades: Censorship and Collaboration in Late Stalinist Music
Sarah Koellner, Assistant Professor, German, College of Charleston. Participatory Privacy in Contemporary German Culture
Emily Master, Instructor, Classics, Agnes Scott College. The Leges Iuliae: Augustus, the Law, and the New Order
Colleen Moore, Assistant Professor, History, James Madison University. The Peasants' War: The Russian Home Front in World War I and the End of the Autocracy
Faith Okpotor, Assistant Professor, Political Science, Moravian College. Electing Violence: Post-Election Violence in Africa
Robert Rouphail, Assistant Professor, History, Susquehanna University. Cyclonic Lives in an Indian Ocean World: Environment, Race, and Gender in Modern Mauritius
Evelyn Soto, Assistant Professor, English, Sam Houston State University. Tainted Translations: Early Latinx Political Imaginaries in the U.S. and Trans-American Empire
Julianna Blair Watson, Instructor, French, Eastern Illinois University. Unheard Voices, Unknown Faces: Raoul Peck and Transnational Black Consciousness
 
Each grantee receives $5,000 which may go toward any costs that will support their project, including travel; research assistance; course buyout or summer salary; and other research- or project-related expenses.
Project Development Grants are competitive and awarded as a component of the ACLS Fellowship program. The program is funded by the ACLS endowment, to which many individuals and institutions have contributed, including The Andrew W. Mellon Foundation, the National Endowment for the Humanities, the Arcadia Charitable Trust, the ACLS Research University Consortium and college and university Associates, former fellows, and individuals and friends.