News Article
ACLS Program Officer Alison Chang Contributes to Book on Visual Imagery of Race Construction in Europe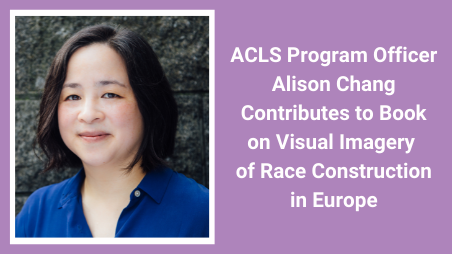 Alison Chang, Program Officer at the American Council of Learned Societies, authored a chapter in the newly released book Constructing Race on the Borders of Europe: Ethnography, Anthropology, and Visual Culture, 1850-1930.
The collection of essays, published May 6, 2021 by Bloomsbury, investigates the visual imagery of race construction in Scandinavia, Austro Hungary, Germany, and Russia. Chang wrote Chapter 3, "Decolonizing the Archive: Pia Arke and Stories from Scoresbysund." Her essay examines the work of Pia Arke, a Greenlandic/Danish artist who used archival photographs to re-create her Greenlandic hometown's colonial and post-colonial history. More information can be found at this link.
Chang holds a Ph.D. and A.M. in the History of Art from the University of Pennsylvania, and a B.A. in English and French from Wellesley College. Her doctoral dissertation, "Negotiating Modernity: Edvard Munch's Late Figural Work, 1900-1925," focused on the Norwegian artist's late career and, more specifically, his use of female models during the first few decades of the 20th century. Her current scholarly interests include contemporary Scandinavian artists, critical race theory, and printmaking.
​