Press release
ACLS Announces 2021 Awardees of the Luce/ACLS Program in China Studies Early Career Fellowships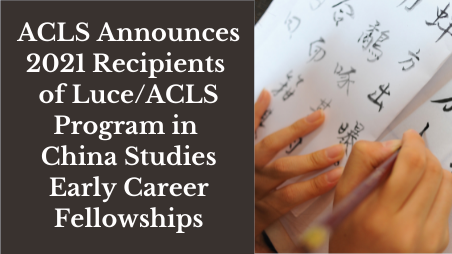 The American Council of Learned Societies (ACLS) proudly announces the 2021 recipients of Early Career Fellowships in the Luce/ACLS Program in China Studies. The program is made possible by the generosity of the Henry Luce Foundation, with additional funding from the National Endowment for the Humanities.
Now in its ninth year, the program supports scholarship on China's societies, histories, cultures, religions, economies, art, cinema, environment, and technologies, from earliest times to today.
"With China's role in the world growing in significance, the study of the nation and its people – past, present, and future – are increasingly important," said ACLS President Joy Connolly. "Humanistic approaches to the study of China are more vital than ever, framing current affairs in historical and cultural perspective. ACLS is proud to support talented scholars and we look forward to the books, articles, and public presentations based on their research."
The 2021 Luce/ACLS China Studies Program made awards totaling $550,000 to 11 outstanding pre-tenure scholars for a wide variety of research projects.
Each fellow will receive a $50,000 stipend for research intended for publication. Awards will commence between June 1, 2021 and September 30, 2022. Projects supported this year include a study of gender and reproductive labor in China's manufacturing industry; mural painting and representations of Buddhist paradise and water management in Medieval China; and archeological study of skeletons and other biological materials of a Late Shang neighborhood. Portions of four fellowships were supported by funds from the National Endowment for the Humanities.