News Article
Frederick Burkhardt Fellow Kirsten Swenson Shares Research on Public Art in The American Scholar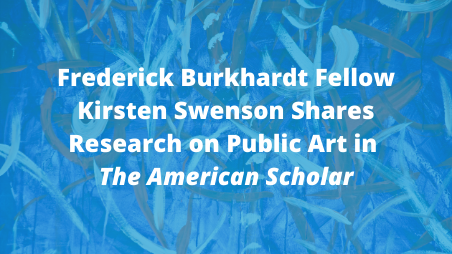 Kirsten Swenson F'20
is featured in Phi Beta Kappa's
The American Scholar
, focusing on her research for a book about public art and urban landscape design from the 1970s to the 1990s. She will continue this research as a Frederick Burkhardt Residential Fellow at the Kluge Center of the Library of Congress over the 2021-22 academic year. In the interview, Swenson shares her research on East Coast artists Ukeles, Nancy Holt and Agnes Denes, and their work transforming trash-filled lots and landfills into parks:
They were using the experience of landscape and environment to think about history and land use. They're seeing landscape architecture as an art form, overseeing and redesigning public spaces. The park itself is a work of art.
Read the full story in The American Scholar here.