News Article
Getty Foundation and American Council of Learned Societies Announce 2021 Postdoctoral Fellowships in Art History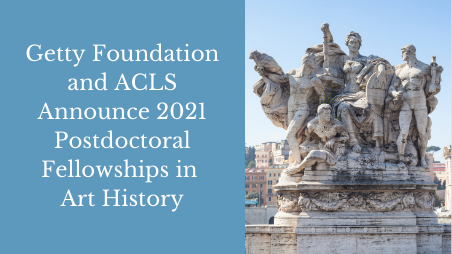 (New York, NY) – The Getty Foundation and the American Council of Learned Societies (ACLS) are pleased to announce 10 recipients of the 2021 Getty/ACLS Postdoctoral Fellowship in the History of Art. This program is made possible by a generous grant from the Getty Foundation.
Now in its fourth year, this distinguished program has recognized outstanding early-career art historians from around the world whose projects stand to make substantial and original contributions to the understanding of various art disciplines and their histories. The 2021 fellowship cohort was chosen from a pool of more than 180 applicants, the largest number in the program's history. The awardees were selected through an intensive peer review process that includes two panels of senior international scholars specializing in art historical subjects that span temporal and geographic boundaries.
Among the winning research projects are in-depth explorations of the aesthetic continuities between North and South Korea in the Cold War era, sculptural production in Roman Athens, a history of photography in colonial Congo, and the octagon as a symbol of Native American identity in Diné architecture.
Each 12-month, non-residential fellowship includes a $60,000 stipend and an additional $5,000 for travel and research. Awardees are also invited to a convening hosted by the Getty Foundation upon completion of their fellowships designed to help build a community of scholars who share diverse international perspectives.
"Support for emerging scholars is always needed, but even more so during this global pandemic," said Joan Weinstein, director of the Getty Foundation. "This year's cohort is once again pursuing a diverse array of international research topics that push the field of art history in new, even more inclusive directions. We look forward to the results of this research and stand ready to help the fellows as they navigate the continued uncertainty of the year ahead."
"Art articulates the diversity of human imagination and helps us visualize new possible futures. Over the past year, when it has been so difficult to travel or experience art in public, we realize just how essential art is to human flourishing, and how much we need to study and understand it in all its variety of type and expression," said ACLS President Joy Connolly. "ACLS is proud to support these outstanding scholars and their research, which we believe makes a substantive contribution to evolving conversations about society."
The 2021 Getty/ACLS Postdoctoral Fellows and their planned research topics are:
Monica Bravo, Assistant Professor, California College of the Arts, Silver Pacific: A Material History of Photography and its Minerals, 1840-1890
Kent Cao, Postdoctoral Fellow, New College of Florida, On Their Own Merits: Indigenous Bronze Cultures in the Yangtze River Valley, c. 1500-900 BCE
Sandrine Colard, Assistant Professor, Rutgers University-Newark, Double Exposures: A History of Photography in the Colonial Congo
Douglas Gabriel, Postdoctoral Fellow, The George Washington University, Over the Mountain: Realism, Reunification, and the Resounding Cold War Across the Two Koreas
Ximena A. Gómez, Assistant Professor, University of Massachusetts Amherst, Indigenous and Black Confraternities and the Creation of Visual Culture in Colonial Lima
Andrew P. Griebeler, Postdoctoral Fellow, University of Southern California, Medusa Underground: An Occult Icon in Byzantium
Lillian Makeda, Independent Scholar, The Octagon: A Symbol of Native American Identity in Diné Architecture
Brian Martens, Postdoctoral Fellow, American School of Classical Studies at Athens, Greece, Sculptors at Work in Roman Athens: Production, Trade, and Economics
Sara Maria Öberg Strådal, Postdoctoral Fellow, University of Cambridge, UK, From Manuscripts to Clock Tower: A History of the Volvelle, 1240-1540
Levi Prombaum, Fellow, Massachusetts Museum of Contemporary Art, "Disagreeable Mirror Though One May Be": Portraits of James Baldwin, 1945-65
Additional information about the Getty/ACLS grant program can be found here.