News Article
Leonard Cassuto Speaks With ACLS Dissertation Completion Fellows About Navigating the Academic Job Market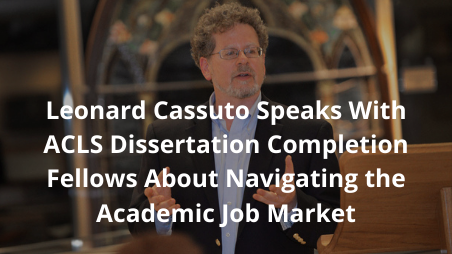 Embracing uncertainty, flexibility, and openness. In Leonard Cassuto's opinion, these are the key factors that will sustain humanities scholars when facing the reality of the academic job market, particularly in these unprecedented times.
On August 20-21, 2020, the most recent cohort of Mellon/ACLS Dissertation Completion Fellows gathered for a virtual seminar on "Preparing for the Academic Job Market."
In addition to discussions and workshops led by ACLS, fellows heard a keynote address from Cassuto, a Professor of English at Fordham University at the forefront of the movement to reform doctoral education in the humanities. Inspired by his monthly column for The Chronicle of Higher Education, his previous book, The Graduate School Mess: What Caused It and How We Can Fix It (Harvard University Press), addresses problems and solutions to strengthening graduate school education in the humanities. His upcoming book, The New PhD: How to Build a Better Graduate Education (Johns Hopkins University Press, 2021), argues that universities should do more to prepare graduate students for both academic and non-academic careers to promote a "career-diverse" PhD experience.
Cassuto opened with his talk, "Negotiating with Yourself," sharing his thoughts on how scholars should navigate the academic job market in the midst of the economic upheaval and uncertainty caused by the COVID-19 pandemic.
"It's only going to get harder from here," Cassuto cautioned. According to him, the ripple effect caused by the current pandemic on academia will be felt for years to come, but the talents acquired by scholars in the humanities are invaluable, both within and outside the academy.
Additional Takeaways From The Session
On how advisors should prepare graduate students for the job market:
"When we teach you that the professorship is the only job worth having, we're teaching you to want something that isn't out there in the supply that it needs to be."
On adapting skillsets in a rapidly changing landscape:
"Humanities scholars are among the best. You have developed these talents, and you have learned to be creative in applying the originality of your own thinking to your work. Coping with uncertainty is a skill. Knowing how to apply creativity is also a skill. It's a skill that I want you to keep in the front of your mind as something you possess…you can apply that skill, not only to your scholarship, but to the planning for your lives."
On the role of the scholarly community, enhancing flexibility, and creating a more open academic culture:
"You should be prepared to ask for the kinds of care that you need. We need each other right now, not only for problem solving, but also for support. The kinds of communities that you can build around yourself will depend on your interests and your goals and your situation…Community is central to success."
On what students and faculty can do to ensure the survival of academia and academic jobs:
"The biggest reason universities are suffering financially in the United States is because of the withdrawal of public support. Professors and graduate students alike are not facing outwards to show what it is that we do. Universities shifting away from the general public is a root cause we can affect. I try, in my own work, to face out. When I see an opportunity to write for the public or teach to different kinds of audiences, I try to grab it."
On the role of the humanities in society:
"Society needs PhDs, not just academia. Think about what role thoughtful, socially engaged intellectuals can play in the world that we are living in. You will find that there are a lot of useful and rewarding places where people who have talent can do remarkable work."
 
Learn more about how the Mellon/ACLS Dissertation Completion Fellowship supports graduate students in the humanities and related social sciences in their last year of PhD dissertation writing.