Press release
ACLS Announces Third and Final Round of Emerging Voices Fellowship Competition
Program supporting outstanding early-career humanistic scholars now welcomes applications for two-year posts with select ACLS Research Consortium Universities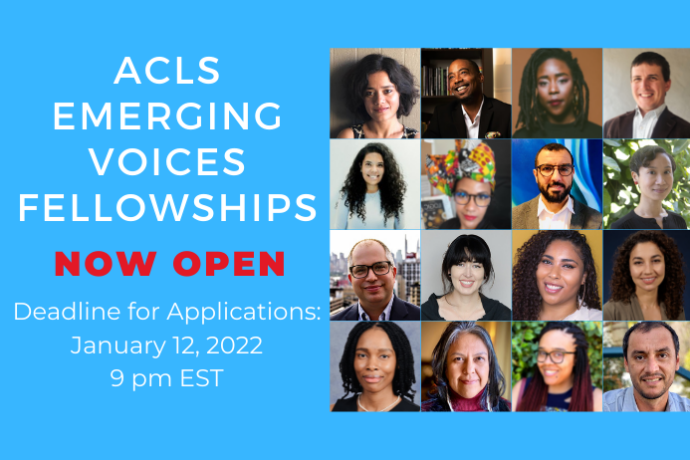 The American Council of Learned Societies is pleased to announce the third and final round of the Emerging Voices Fellowship program.
Following the success of the first two competitions of the program, which supports early-career scholars in the humanities and interpretive social sciences facing a challenging academic job market, both the competition and fellowship have been redesigned to best serve those who have received their doctorates just before or during the COVID-19 pandemic.
"The Emerging Voices Fellowship has been distinguished for its rapid response approach in supporting new and recent PhDs during a time of great economic uncertainty," noted ACLS President Joy Connolly. "In addition to providing funding to help strengthen humanistic disciplines, we have also incorporated feedback from scholars and partner institutions from the first two rounds on how best to use our resources to make the program a success for everyone involved."
For its final round of competition, the Emerging Voices Fellowship program invites applications from qualified PhDs whose voices, perspectives, and broad visions will strengthen institutions of higher education and humanistic disciplines in the years to come. Nominations are no longer required and will not be accepted. We welcome applications from scholars whose PhDs were conferred between January 1, 2018, through December 31, 2021. Students who anticipate receiving the PhD degree after December 31, 2021, are not eligible. Learn more in the Emerging Voices Fellowship FAQ.
Scholars of color, from low-income and unconventional backgrounds, and those who have taken on extraordinary roles in graduate school (organizing public art exhibits, teaching in prison education programs, coordinating research groups, to name just a few), are especially encouraged to apply.
The fellowship will now offer two-year in-person posts at participating institutions from the ACLS Research University Consortium during the 2022-23 and 2023-24 academic years.
Applications are due Wednesday, January 12, 2022, 9 PM EST. Learn more about qualification and how to apply.
The program will award up to 45 fellowships and provide a $65,000 annual stipend plus benefits, a one-time relocation allowance of $3,000, and $3,500 (annually) in research/professional development funding, childcare or eldercare costs, as well as access to ACLS professional development resources. Fellows are expected to teach one course or the equivalent per year, contribute to projects at their host institutions, as well as advance with their own research and participate in ACLS-sponsored professional development activities. Given the limited number of fellowships available, ACLS intends to support qualified candidates who lack full-time academic positions for the 2022-23 academic year (including fellowships and postdoctoral positions at their home institutions).
The first two Emerging Voices Fellowship competitions yielded 93 outstanding scholars representing a variety of backgrounds and fields of study who have demonstrated strengths in using the classroom as a vehicle to attract a diverse community of learners to humanistic study and research. The 2022 Emerging Voices Fellows will join a robust community of practice in the publicly engaged humanities and will have the opportunity to draw on networks of related ACLS programs, including past awardees of the Mellon/ACLS Leading Edge Fellows and Scholars and Society Fellows. The diverse experience of the ACLS community is a shared resource that fellows are encouraged to draw on during and after their fellowship terms.
The Emerging Voices Fellowship is funded through the ACLS endowment, which has benefited from the generous support of esteemed institutions and individuals including The Andrew W. Mellon Foundation, Arcadia Charitable Trust, the National Endowment for the Humanities, the ACLS Research University Consortium and college and university Associates, past fellows, and friends of ACLS.
Questions? Email us at [email protected]