Press release
ACLS Announces Digital Justice Grant Program Office Hours
Register now for a session on February 10.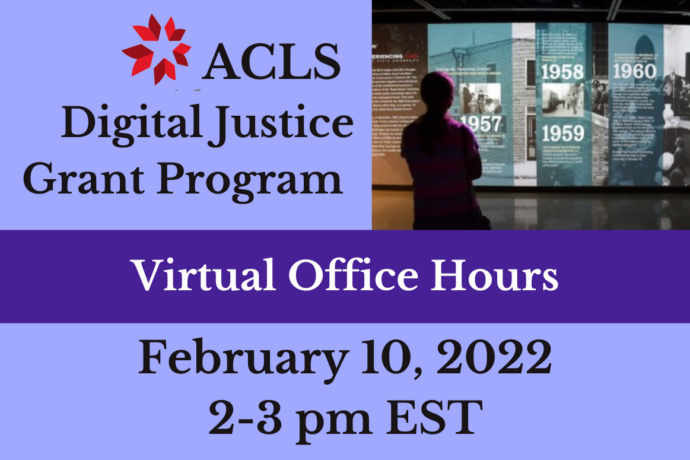 The American Council of Learned Societies (ACLS) is pleased to invite prospective applicants for the Digital Justice Seed and Development Grant Programs to virtual office hours on Thursday, February 10, 2022 from 2:00-3:00 pm EST.
Intended for all prospective applicants of the Digital Justice Grant program, this final information session will offer applicants the opportunity to ask any pressing questions before the competition deadline and to receive real time feedback on eligibility, the online application form, and the parameters of the program.
The ACLS Digital Justice Grant program, supported by The Andrew W. Mellon Foundation, is designed to promote and provide resources for projects at various stages of development that diversify the digital domain, advance justice and equity in digital scholarly practice, and/or contribute to public understanding of racial and social justice issues. This program especially supports projects that engage with the interests and histories of people of color and other historically marginalized communities, including (but not limited to) Black, Latinx, and Indigenous communities; people with disabilities; and queer, trans, and gender-nonconforming people.
Applications for both Seed and Development grants are due February 15, 2022, at 9 PM ET.
Questions? Contact us at [email protected].