Press release
ACLS Announces 2022 Mellon/ACLS Dissertation Completion Fellows
Awards Support Fifty Early-Career Scholars in the Final Year of PhD Dissertation Writing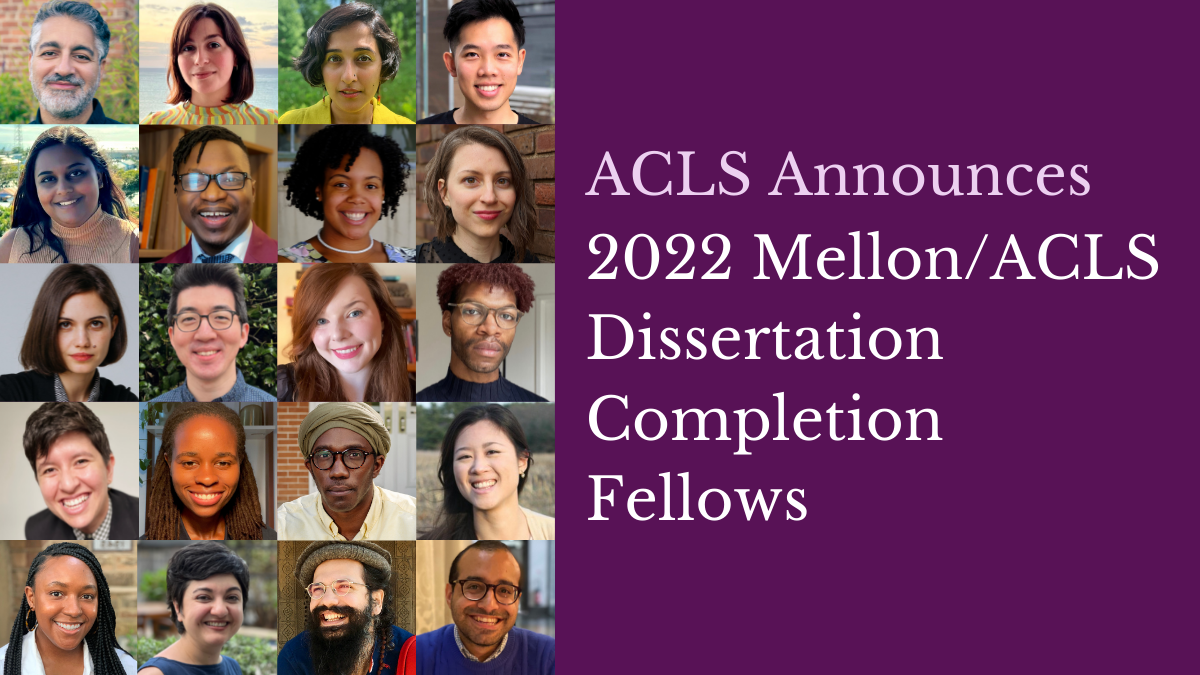 The American Council of Learned Societies (ACLS) is pleased to announce the 2022 Mellon/ACLS Dissertation Completion Fellows.
These fellowships support exceptional doctoral students in the humanities and interpretive social sciences with a year of funding to facilitate the completion of projects that will form the foundations of their scholarly careers. The program, which makes its sixteenth and final set of awards this year, is made possible by a grant from the Mellon Foundation.
This year's 50 fellows represent the most diverse cohort in the program's history, selected from a pool of over 800 applicants. More than 150 scholars from across the humanities and interpretive social sciences contributed to the evaluation of the applications through a rigorous, multi-stage peer review process. Each fellow will receive an award of $43,000 to support the final year of dissertation research and writing. In addition, fellows will participate in a professional development workshop to help prepare them for postdoctoral career opportunities within and beyond the academy.
The projects pursued by the 2022 fellows represent a wide array of research topics, including poetry as a form of refuge among Southeast Asian lyric and spoken word poets; the relationship between Indigenous dispossession and development as a political-social phenomenon in the Choctaw Nation of Oklahoma; the intertwined nature of US and Japanese imperial formations in the American Philippines and the intersection of gender, race, and space in the history of settler colonialism; and the emergence of blood transfusion technology and its connection to the evolving meaning of citizenship in modern Iran.
"ACLS is excited to support this diverse cohort of promising emerging scholars as they pursue research that will help us gain a more complete understanding of our world, from Ijebu-Yoruba palatial architecture in the second millennium CE to contraceptive technologies and their relationship to population growth in mid-twentieth century Mexico," said ACLS President Joy Connolly. "We are proud to partner with the Mellon Foundation to help build a more just and inclusive future for the humanities and social sciences."
Learn more about the 2022 Mellon/ACLS Dissertation Completion Fellows.
This year marks the final competition for this program, which has supported more than one thousand scholars since 2006. Mellon/ACLS Dissertation Completion Fellows have made significant contributions to scholarship across all fields of the humanities and interpretive social sciences. Past fellows occupy faculty positions and leadership roles at institutions throughout US and international higher education, as well as in the media, policy, and cultural sectors. ACLS is excited to continue to our support of doctoral students through a new initiative, the Mellon/ACLS Dissertation Innovation Fellowship program, which will issue its first call for applications in May 2022.