2020
Yomna Elsayed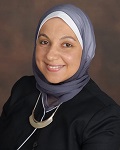 Dissertation Abstract
"Modes of Cultural Resistance in post-Arab Spring Egypt: Humor, Music, and the Making of a New Digital Identity"

The Arab Spring uprisings came with promises of democracy and social justice, however, years later, freedom of expression and peaceful protests have been met with unprecedented violence as per the 2016 Amnesty International report. Human rights' organizations estimate Egypt's political prisoners between 40,000 to 60,000 across the political spectrum. Modes of Cultural Resistance asks what happened to the energy fueling the Arab Spring uprising in Egypt, has it dissipated, or has it transformed? Instead of focusing on the spectacle of protest movements like many analyses of the Arab Spring, it traces forms of cultural agency following the uprisings in the unlikely spaces of online entertainment and popular culture. It examines a period largely ignored by social movement analysts for its ostensible lack of open political action due to state crackdown on forms of physical dissent. Through an examination of youths' cultural products from 2011 to date, this project reveals a coming of age story of Arab Spring youths, wherein their complicated relationship to their nationalist pre-Spring past and their aspirations for the future are creatively negotiated through their work. Utilizing digital technologies, creative subversion and participatory practices, Egyptian youths managed to channel their frustration at Egypt's failed transition to democracy to the online space where they could creatively address the underlying nationalist and traditionalists myths that initially beset this transition.
Utilizing in-depth interviews, textual analysis and focus groups, this study analyzes ways with which Egyptian youth redirected the energy of the Arab spring to craft creative reformulations of social change using popular culture and digital technologies. In the years that followed the Arab Spring uprisings (2011-to date) and despite the shrinking space for physical dissent and the social polarization characterizing post Spring Egypt, Egyptian youths managed to demonstrate their cultural and political agency by adapting their creative styles to the state's mounting repression. Modes of Cultural Resistance builds its argument chronologically across four case studies that have the element of agency and creativity in common. I ultimately argue, that through online satirical videos, protest songs, fandom and anti-fandom spaces, youths were able to develop a common language and a transactive memory, as well as build media literacy and critical thinking skills: all necessary elements for a new collective identity and a new cultural movement that accompanies, preserves and revitalizes social and political change.