2020, 2022
Viola Lasmana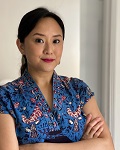 Dissertation Abstract
"Shadow Imaginations: Transpacific Approaches to Post-1965 Indonesian Archives"

Shadow Imaginations: Transpacific Approaches to Post-1965 Indonesian Archives analyzes cultural productions that would have been considered impossible narratives in the militarized, US-backed New Order regime after the 1965 anti-communist genocide in Indonesia, and examines the suppression of authors, filmmakers, women's collectives, and activists in Indonesia in the wake of the militarized Suharto dictatorship in post-genocide Indonesia. Using a transpacific lens, this project explores the relationship between the archive and historical trauma, and how various Indonesian and Indonesian American literary and media productions function as alternative articulations beyond the confines of the archive and as spaces of resistance.
This project explores how these silenced voices act as counternarratives to state propaganda and open up spaces for community collaboration, cultural transformation, and local and global dialogue. These texts include transnational films by women's collectives, such as Children of Srikandi and Chants of Lotus; literature by Indonesian-born Chinese American poet Li-Young Lee and Nobel Prize-nominated, exiled novelist Pramoedya Ananta Toer; and digital community initiatives like EngageMedia and Mapping Memory Landscapes that have emerged as sites of resistance. I draw the term "shadow imaginations" from the Indonesian word "bayangan," which has the double meaning of shadow and imagination.
If writing against historical traumas and narrative gaps are integral to transpacific imaginations (and re-imaginations), how do these works contribute to an emergent public sphere? My project is itself part of an emerging, alternative archive in the aftermath of the 1965-66 killings; this is a project that puts the past, present, and future into a continuum. The possibility of creating other futures, mobilized by the political and creative ability to imagine otherwise, always comes with an ethical responsibility. It is towards this possibility that this project seeks to bring together history, humanities, and the possibilities of digital research.