2015, 2022
Victoria Oluwamayowa Gbadegesin
Assistant Lecturer
Federal University Oye-Ekiti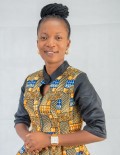 Performance, Participation and Cultural Meaning in MTN Project Fame Music Reality Show: A Multimodal Approach
Performance and participation are important meaning making resources in African music reality shows, but they have not been explored especially as they articulate cultural meaning in these shows. Therefore, this study investigates the issues of performance and participation in MTN Project Fame West Africa as they unravel socio-cultural meaning. It also explores how performance and participation portray the emergence of new culture in African music. A total of thirty episodes were selected from the first six seasons of the show. Five episodes were picked from each of the seasons, out of which ten performances were selected from each season making a total of sixty performances. The study adopts Norris (2004)'s Multimodal Interaction Analysis as framework and borrows insight from Goffman (1981)'s Participation Framework. The study seeks to illustrate that performance and participation in MTN Project Fame West Africa are important tools for articulating socio-cultural meaning and concerns in Africa.
'Men at the Edge': Language, Masculinity and Victimhood in contemporary Nigerian Fiction
Global debates on hegemonic masculinities often focus on female repression even though its principles also create internal and personal conflicts in non-stereotypic men. In this study, I critically examine male struggle towards selfhood and the linguistic framings of masculinity in selected novels. I focus on the nexus of language, male agency and victimhood. My data are four contemporary Nigerian novels: Aisha Onekata's His Royal Highness, Adobi Tricia Nwaubani's I did not come to you by Chance, Ayobami Adebayo's Stay with me and Jude Dibia's Walking with Shadows. The texts foreground varying masculine deprivations which male characters experience while performing normative masculinity. A corpus-based methodology is adopted for data collection while Critical Discourse Analysis (CDA) will enable contextual explanation and data interpretation. I argue that being a man and the quest for true selfhood place men in a victimhood position especially when fulfilling normative expectations become difficult.