2007, 2008
Valeria De Lucca
Doctoral Candidate
Princeton University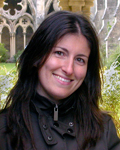 The Colonnas and Music Patronage in Rome, Venice, and Naples, 1659-1689
This dissertation focuses on the patronage of musical and theatrical entertainments of Maria Mancini and Lorenzo Onofrio Colonna, and on the impact of their activities on the cultural life of Rome, Venice, and Naples between 1659 and 1689. While reconstructing their role as liaisons between these cities and their support of the most celebrated musicians, singers, and composers of their time, and taking into account a multiplicity of genres and models of entertainments and their broad cultural context, this project investigates the ways in which gender constructions influenced their patronage and their interaction. Their support of music, which evolved from courtly patronage to semi-private support of opera in their theater, reflects a crucial and hitherto neglected phase in the history of patronage.
The Politics of Princely Entertainment: The Patronage of Music and Theater of Lorenzo Onofrio Colonna between Spanish and Italian Culture
This project explores the patronage of musical and theatrical entertainments of Roman Prince Lorenzo Onofrio Colonna as his most effective and original means to assert his political power while he was Viceroy of the Kingdom of Aragon (1678-1681) and of Naples (1687-1689). Reconstruction of the visual and musical aspects of the numerous operas, serenades, and public spectacles he sponsored in Rome and Naples allows for analysis of the political and social implications of such highly public events in the context of the relationship between Italian and Spanish culture at the end of the seventeenth century. This project is the foundation for a broader study on the patronage of music and theater of Princes Lorenzo Onofrio and Maria Mancini Colonna (1659-1689).