2021
Thaomi Michelle Dinh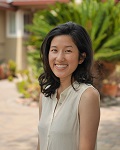 Dissertation Abstract
"The Politics of Care: Historical Retrieval in Post-War Vietnamese American Cultural Production"

The Politics of Care: Historical Retrieval in Vietnamese American Cultural Production
My dissertation examines care in post-war Vietnamese American cultural production. I argue that care is a significant method of historical retrieval that resists dominant understandings of time, gender, and political action. Vietnamese refugees have often been portrayed as a problem to be solved or objects to prop up liberal narratives. Dominant American history operates on linear time, pushing narratives of progress onto refugees and the post-war generation to draw attention away from US imperial violence. Drawing upon critical refugee studies, Asian American studies, and women of color feminism, my project theorizes different forms of care to explore how post-war Vietnamese American cultural production critiques ongoing state violence and expands what it means to act politically and build community. Examining a wide variety of genres, I explore how cultural production makes visible the nuanced lived experiences of the multigenerational diaspora and the different ways they contend with being Vietnamese in America through acts of care.
Chapter 1 focuses on ephemeral care to think about how artists preserve and create histories through the care of objects. Vietnam War memorials tell a history of the war as an event that has passed. These monuments not only ignore Vietnamese lives and deaths, but they also suggest that there is nothing left to learn or know about the war. I consider how artists Trinh Mai and Dinh Q. Lê use ephemeral objects to tell new stories of war, and to demonstrate how the Vietnamese diaspora remembers and experiences the temporality of war differently. Encouraging the post-war generation to attend to the possibility of objects and the stories they tell, ephemeral care works against the typical memorialization of the Vietnam War to disrupt linear timelines of history.
Chapter 2 looks at motherhood and storytelling, as I explore how protective care is given by mothers, who tell stories to protect their children. These stories, I argue, are important ways of speaking and acting politically, particularly as Vietnamese women are often enlisted to bolster narratives of American exceptionalism. Disrupting the gendering of Vietnamese women as grateful refugees, I pay attention to how mothers shield their children from harm, revealing women's deep understanding of historical and ongoing state violence. I read Viet Thanh Nguyen's "Black-Eyed Women" and Ocean Vuong's On Earth We're Briefly Gorgeous to consider how these texts highlight the stories women tell to protect their families. I consider how protective care reorients different ways of thinking and existing in the Vietnamese diaspora, and how mothers create storytellers.
Chapter 3 examines restorative care as a process that draws attention to how communities are racialized by the state, and how criminalized communities respond to state violence by organizing together. Drawing from Black feminism and abolitionist theory, I introduce restorative care as a practice that reveals the state's hand in criminalizing Southeast Asian American communities. Making clear that criminals don't commit crimes but the state creates criminals, restorative care makes visible exclusionary immigration laws and highlights the actions that families and communities take to care for one another. I read Thi Bui's comic "Refugee to Detainee" to listen to the stories of criminalized individuals and their families to explore how they demonstrate everyday ways of resisting, persevering together, and forming lasting solidarities and coalitions across criminalized communities.
Chapter 4 turns inward, as I discuss self-care as a critical Asian American feminist practice that can make clear connections between imperial war violence and everyday sexual violence. Through autoethnography, I examine a comic that I co-created with Bryan Trinh for the #WeToo Reader, a special issue of The Journal of Asian American Studies that focuses on sexual violence in Asian America. In the comic, titled "To my 21-year-old-self," I think about what it means to grow up as an Asian American woman in the US and come to articulate my own ways of speaking against sexual violence.
My project draws attention to everyday acts of care to argue that care is an important method of shaping community and engaging in political action. I grant a critical seriousness to the ways people care for objects, communities, and each other to preserve histories that allow for a more nuanced and complicated image of Vietnamese America to emerge.