2021
Sinan Cem Goknur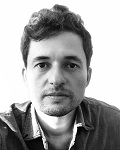 Dissertation Abstract
"Figuring a Queer Aesthetics and Politics of Urban Dissent in Istanbul"

My dissertation is an archival and practice-based investigation of aesthetic-affective resistance to rent-seeking recuperation of urban space and urban living particularly in Istanbul, Turkey. Through archival research, I explore dissident aesthetic strategies that go back to mid-1990s which emerged against the backdrop of Turkey's neoliberal transformation and its impact on the cities. In particular, I trace the ways in which artists resisted the neoliberal logics of rent-seeking, accumulation by dispossession, privatization, securitization, and erasure that became lodged in the normative cultural codes, tastes, and affectations of Istanbul's urban life. The aesthetic strategies of cultural-political dis-identification include satire, valorization of the obsolete, discarded, devalued, and superfluous, and the fragmental provocation of memory traces to keep the lived history of Istanbul active against erasure without monumentalizing an idealized historical narrative.
The art practice component of this dissertation provides self-reflection on my own art practice that draws upon aesthetic-political developments in Istanbul. In this discussion, I put my practice in conversation with theories of queer temporality, utopian realism, and a queer-feminist ethic-erotic that orient us to collective practices of production, reproduction, and subjectivization that aspire for a sensuous relationality and reciprocity that go beyond the familial and the naturalized, and one that the dominant political-economic order currently renders unfeasible.