2020
Setsuko Yokoyama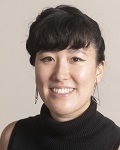 Dissertation Abstract
"Digital Frost: Accessibility and Public Humanities"

His frequently recirculated televised reading at President John F. Kennedy's inauguration ceremony attests to the fact that Robert Frost is often remembered as one of the iconic popular poets of the early twentieth century. What is less remembered today is the fact that Frost gave talks and readings at universities, colleges, and other public venues for nearly five decades to make poetry accessible to general readers. These talks epitomize Frost's dedication to the democratic discussion of literature and daily discourse as he demonstrated, through humor, how to practice auditory attentiveness to the figures of speech used by poets, scientists, politicians, and other authority figures. Though central to his career and his contribution to American culture and literary history, Frost's public performance as a genre has long been overlooked primarily due to the inaccessibility of audio recordings housed in archives. Digital Frost: Accessibility and Public Humanities investigates how best to redress such critical neglect of Frost's public talks and readings through the development of a pilot audio edition and the discussion of theoretical underpinnings of the very edition's design. As part of the larger effort to build a cross-intuitional platform in partnership with literary scholars, special collections librarians, Frost's family members and friends, as well as the poet's literary estate and publisher, the pilot audio edition tests the feasibility of critical collaboration and expands on the disciplinary responsibility of textual scholarship. In its accompanying chapters, Digital Frost contests the seemingly monolithic discourse around
"accessibility" via analyses of its sociohistorical meanings from archival, literary, disability, and digital studies perspectives. Digital Frost argues that only when technical accessibility is concomitantly considered from a sociohistorical perspective are we equipped to invent a culturally appropriate access design for online literary collections.