2019, 2022
Santiago Andres Garcia
Adjunct Professor
Río Hondo College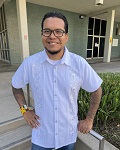 Supporting the Scholarship and Contributions of Indigenous Mexican Students through Clay-Work and Self-Reflective Writing
Working with clay and self-reflective writing at Rio Hondo College in Whittier, California, has allowed the students of Humanities 125: Introduction to Mexican Culture—many of whom are of Purépecha, Zapotec,or Mayan ancestry—to materialize their views on race, ethnicity, and ancestry in clay-figurine form. These kinds of culturally relevant teaching practices best serve indigenous students by allowing them access to humanistic knowledge and understandings of the human body and ideology through their personal stories and their contributions to their families. This project analyzes these teaching practices and disseminates the results of this teacher-student scholarship birthed at a Hispanic-serving institution through journal articles, conference presentations, and a daylong community forum.
Sustaining Public Engagement through the Mesoamerican Clay-Figurine Project of Rio Hondo College and its Partners in Community (Host Institution: Rio Hondo College)
The grant shall sustain twelve months of public programming between the Mesoamerican Clay-Figurine Project and its partners. The 2022-23 program involves three public forums hosted at the East Side Café, a Zapatista-Maya inspired community center in El Sereno. These forums shall be followed-up by one public book reading with a live Q&A part hosted by the Los Angeles Indigenous People's Alliance. To cap the programming, one public health symposium will be held at the Association of Raza Educators headquarters in Los Angeles. These five public meetings shall feature public intellectuals instructed to lead the co-creating and sharing of knowledge in the areas of racial equity, educational sovereignty, and public health. Santiago Andres Garcia, Professor of Anthropology (Rio Hondo), and Lizette "Lucha" Arévalo, Assistant Professor of Chicana/o/x Studies (Rio Hondo) shall steer the yearlong efforts.