2016, 2021
Rosanna Dent
Assistant Professor
New Jersey Institute of Technology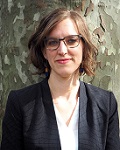 Studying Indigenous Brazil: The Xavante and the Human Sciences, 1958-2015
Scholars around the world have long considered Indigenous bodies, families, and communities to be uniquely productive sites of research. This project examines how scientists from disparate human-centered fields, including genetics, anthropology, and public health, and Indigenous people have engaged one another since the 1950s in Brazil. Through a case study of the Xavante of Mato Grosso, it traces the evolution of transnational intellectual approaches to characterizing human biological and cultural diversity. It shows how Indigenous people have engaged in scientific knowledge making for their own social, economic, and political ends, and have, in the process, shaped the scholars and disciplines that sought to characterize them. Illuminating the practical, intellectual, and ethical challenges for both the subjects and the scientists, this dissertation contributes to the ongoing discussion of the limitations and possibilities of Indigenous subjects' interests in finding adequate representation through contemporary research frameworks.
Studying Indigenous Brazil: Moral Economies of Research in A'uwe-Xavante Territory
At a moment when Indigenous groups increasingly reject outsiders' proposals to research them, this project examines how and why some A'uwe-Xavante communities in Central Brazil embrace scholarship. Through a historical case study of sixty years of genetics, anthropology, and public health fieldwork, this project argues that A'uwe-Xavante have developed relationships with researchers as a political strategy in the face of Brazilian colonial expansion. In the process they have shaped the scholars and academic disciplines that study them. This project offers a nuanced approach to the ambivalent role of science under settler colonialism, exploring how expertise intersects with colonial and Indigenous interests in messy, uneven ways. It also combines ethnographic and historical methods through the collaborative construction of a digital archive of scientific objects. This work with four A'uwẽ-Xavante communities is an exploration of how "relationally based ethics" can lead to better knowledge making in both history of science and the fields we study.