2012, 2016
Reginald Akuoko Duah
Lecturer
University of Ghana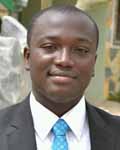 Syntax and Semantics of Causative Constructions in Akan
This research presents a detail account of causative constructions in Akan. The study presents the morphological and syntactic ways of expressing causation in the language and their significance as far as meaing is concerned. It is shown that in Akan, causatives display a continuum in the morphological and syntactic integration of their components. Again, the long held view that lexical causatives express more direct causation while analytic causatives express indrect causation cannot be rigourously applied in Akan as, in certain cases, the latter is the only option. Significantly, this study emphasizes that the different analytic causative constructions evident in different dialects of the language do not have analogous structure. The salient semantic properties of the causative in Akan is also examined and it is argued that the use of the same construction in expressing both the notions of 'causing' and 'letting' is non-arbitrary especially when Force-Dynamics analysis is employed.
Causatives in Kwa: Form, Structure and Meaning
The aim of this project is to provide a detailed description and analysis of causative expressions in the languages of the Kwa family of the Niger-Congo language phylum. Typological studies on causative expressions have been largely in languages of Europe and Asia; rarely have investigations extended to African languages. However, a cursory look at African vernaculars clearly shows that our understanding and analysis of causation phenomena cannot be complete without rigorous typological research in African languages. The project focuses on three main areas of Kwa causation: (a) how causation is encoded; (b) the morphosyntactic properties of the forms and structures; (c) major event types of causation. This research will present fresh, relevant, areal data to cross-linguistic studies of the causative and will identify the status of the Kwa causatives in other language typology studies.