2019, 2023
Rebecca H. Hogue
Lecturer
Harvard University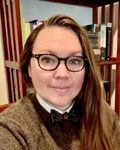 Archipelagos of Resistance: Anti-Nuclear Writing of Oceania, 1975-2018
Often misguided by continental bias, studies of nuclear proliferation have largely ignored the experiences and writings of Indigenous peoples, especially those of the Pacific Islands, despite over three hundred detonations in the region. To counteract these erasures, my dissertation project examines the rhetorical and representational strategies of Indigenous writers and activists during, or inspired by, the "Nuclear Free" movements in the Pacific Islands from 1975 to 2018. Using a decolonial, ecocritical methodology on the topics of kinship and temporality, I examine newsletters, pamphlets, conference proceedings, fiction, poetry, and videopoems from Oceania to argue for a place-based re-theorization of nuclear studies that includes and incorporates Indigenous Oceanic epistemologies.
Nuclear Archipelagos: Radiation Empires and Indigenous Resistance in the Pacific
This project re-envisions Cold War politics and peace activisms by centering Indigenous Pacific aesthetics. Between 1946-1996, the United States, United Kingdom, and France detonated over 300 nuclear weapons in the Pacific. Since those detonations began, Indigenous women have organized in protest of the irradiation of their land, sea, air, and bodies. "Nuclear Archipelagos" illuminates how Pacific stories of creation recast the Pacific as a place of ongoing environmental kinship across space and time. With attention to narratives of birth, reproductive health, bodily sovereignty, and maternity, I read literary and visual texts against colonial government archives to argue that these women's aesthetic choices challenge rhetorics of the Pacific as a feminized, militarized space and transform it into a place of trans-Indigenous women's empowerment, care work, and healing.