2009, 2010
Pablo F. Gómez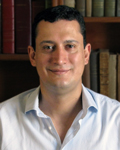 Bodies of Encounter: African and European Health Practices in the Early Modern Nuevo Reino de Granada
This project explores the encounter of African and European health practices and ideas about the body and disease in the early modern Iberian Atlantic world. Through an interdisciplinary approach, it contextualizes and defines local and transatlantic connections between African and European cultures in the Americas. Drawing on material culture and documentary evidence from early modern Africa, Europe, and Spanish America, this project contributes to diverse understudied fields. It breaks ground by bringing to the front African practices and systems of belief as seminal in the emergence of early modern ideas abound body and health, and by challenging prevailing assumptions about the place occupied by Africans and Europeans in processes of cultural interchange in the New World.
Imagining Atlantic Bodies: Health, Illness, and Death in the Early Modern African-Spanish Caribbean
This project explores African ideas and practices related to bodies, health, illness, and death in the early modern Spanish Caribbean. African traditions were an essential part of the imagination of the body and natural world espoused by the inhabitants of the Iberian Atlantic World. They were instruments of integration and adaptation. In the fluid and cosmopolitan societies of Spanish Caribbean cities, Africans, Europeans, and their descendants developed a common ground for the conceptualization of their bodies' nature, and of the origins of health, illness, and death. Drawing on evidence coming from Africa, Europe, and America, this project demonstrates how African beliefs and practices around the body were seminal in the emergence of early modern Spanish Caribbean culture.