2009, 2015
Omon Merry Osiki
Lecturer II
University of Lagos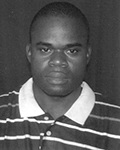 A History of Trafficking Across the Nigeria-Benin Border, 1914 to 2005
The worrisome phenomenon of trafficking has continued to generate academic interest because trans-border crimes such as human smuggling, trafficking of arms and ammunitions, and others have remained major obstacles to development in both developed and developing countries of the world. Tackling these problems has remained Herculean partly because of their dynamic nature. This project assesses the growth and development of human trafficking, arms and ammunition trafficking, as well as hard-drug trafficking as aspects of trans-border criminality across the Nigeria-Benin border. The work examines some of the causes of the three aspects of trafficking such as poverty, ignorance, and the greed for money. It also examines the intricacies and complexities of trafficking as a global crime from a historical perspective.
Quid Pro Quo?: A History of Newspaper Reportage of Immigrant Expulsions in Ghana and Nigeria
In this study, I intend to analyze the debates that followed the 1969/70 and 1983 immigrant expulsions in Ghana and Nigeria respectively. I will use the historical method to examine the perspectives of newspaper reportage of the events. I intend to evaluate the controversies generated in the press in line with the realistic group conflict theory and the social identity theory. The first posits that the perception of a zero-sum competition between groups can lead to prejudice and negative stereotyping, while the second postulates that people strive to achieve positive social identity and self-interest to the detriment of others. Both theories explain how deeply held views and perceptions can generate unhealthy competitions between two groups. I intend to examine the ferocious Nigerian-Ghanaian media battles, which generated discontent to elucidate the "Nigeria-must-go" and "Ghana-must-go" crises. The work recommends objective reportage as a panacea for reckless media coverage of immigration issues.